No Pens/Screen Week
Class 3 has enjoyed a very hands on week learning more about life during the Stone Age, acting out their Overcoming a Monster story, and discovering shapes and symmetry in nature.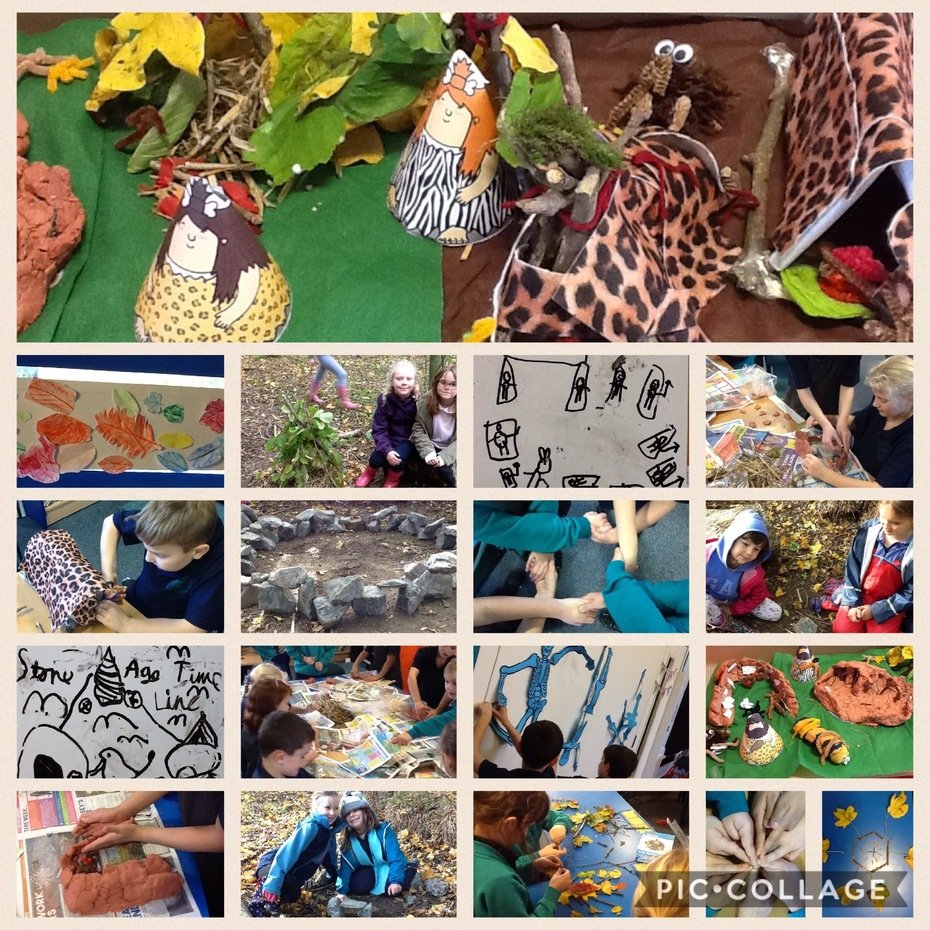 The Stone Age is the theme for this term. Class 3 will be looking at timelines to understand the Stone Age through to the Iron Age. We will be looking at what like was life during the Stone Age, how different it was to the life we now live, and how archaeologists have pieced together the information to give us a picture of the past.
Please encourage children to bring in topic related items from home to share at any point during the term.
English
Children should be reading either independently or with someone at home every day. They have reading records to bring home which should be filled in every time they read. We also have daily Guided Reading sessions where the children read with their teacher in a group and complete tasks based on their reading.
We will continue to use 'Read, Write, Inc.' as our spelling scheme. Children will be taking part in fun, interactive spelling lessons for 20 minutes 4 times a week. We will be sending home lists which the children will be tested on.
Handwriting and presentation are continuing to be a focus for Year 3. We are looking forward to giving out lots more 'pen licences'!
Maths
Children should be learning their times tables up to 12 x 12 so they can quickly recall and use them. By the end of Year 3 they are expected to know multiplication and division facts for 2x, 5x, 10x, 3x, 4x and 8x tables.
We are using the 'Teaching for Mastery' approach as our foundation for learning.
Science
Our Science topic this term is 'Forces and Movement'. As well as building on their knowledge and understanding, the children will be doing lots of practical investigative work to build on their ability to work scientifically and this will feed into their writing too.
Computing
The children will be getting more familiar with computers this term by starting to use them more for researching different information for our topic work.
PSHE
The whole school theme of Honesty will be a focus for the children this term, based loosely around the story The Honest Woodcutter.
RE
In RE we will be linking in our learning about humans, and discovering what it is that makes us all different and special in our own way.
Music
We will be learning to play the Ukulele, which is planned and taught by, Mr Kitcher, a specialist music teacher from Shropshire Music Service. Children are allowed to take their Ukuleles home to practise, but must remember them on a Wednesday morning for their lesson.
DT
In the second half of term the children will be designing and making their own Christmas decorations. A visiting artist will be coming in to show the children how to use glass as a medium for this and the children will be able to create their own glass masterpieces!
French
French is taught weekly and integrated into class routines. We will be learning the vocabulary for body parts and colours, through songs and games.